Indulge in Barefoot Bliss

ISLAND PLANTATION
AN INTIMATE BEACH-FRONT HOTEL
Book now to take advantage of our special offers!!
(Blackout dates apply, based on availability)
BOOK NOW
Bali-Style Eco Resort
ON BLUFF BEACH

Island Plantation is a small Bali-Style Eco Resort situated right in front of gorgeous and unspoiled Bluff Beach on the main island of the Bocas archipelago. Seven comfortable and tastefully appointed King bed guest rooms, a two-bedroom Suite (one king bed, two twins) make up this little paradise!
You know you've made the right choice once you walk through the gates and are warmly welcomed with a rejuvenating face towel and a refreshing beverage. The staff will whisk your luggage off to your room prepared just for you while you get oriented and settled in for an unforgettable vacation!
Expect surprises from our fine dining restaurant using organic produce from our own gardens, a fabulous yoga and meditation platform immersed in tropical vegeta-tion on a jungle hilltop, a beautiful sea view pool, gardens, and a dedicated Beach Club area for you on the golden sand right in front of the hotel!
The owners and managers are experienced hospitality professionals that under-stand the importance of great beds, exquisite food and wine, great personal atten-tion, and all the little extras that make any stay special!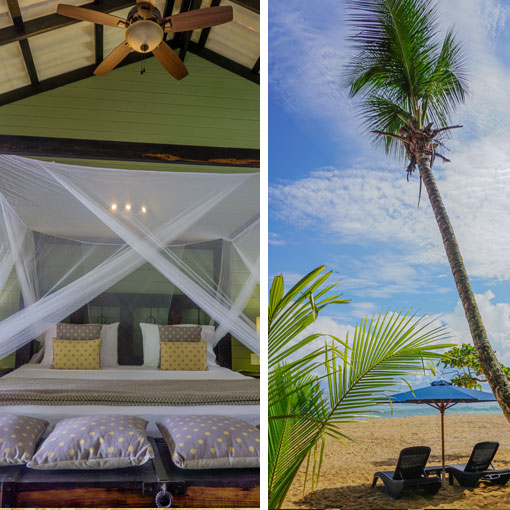 The Perfect Getaway
CARIBBEAN PARADISE

Take endless romantic walks on our 4km breathtaking beach, sip your favorite cocktail poolside or served right at your beach chair in the area reserved just for our guests. Let the sound of the warm waves of the Caribbean ocean lull you to sleep and have the howler monkeys, tropical birds, and a spectacular sun-rise bring you a new day in paradise!
Should you wish, there are plenty of activities that can be arranged for you and should you get a craving for the town's hustle and bustle or night life, Bocas town is only a 20-minute car ride from Island Plantation!
Bluff Beach
4KM OF BREATHTAKING BEACH
We pride ourselves on being the only full service, luxury hotel on Bluff Beach offering daily gourmet meals and bar service.
Culinary Delight
THE BEACH CLUB & MORA MORA

Enjoy our on-site dining facilities! The Beach Club on the golden sand serves up tasty little appetizers and finger-foods to share and delicious cocktails and drinks while the restaurant Mora Mora reserves up full a-la-carte breakfasts, great lunch dishes, and will surprise you with fine dinners and hand-picked wines.
Unlike other hotels at Bluff, Island Plantation's onsite bar and restaurant offer breakfast, lunch and dinner 7 days a week, so you will never need to spend $30 taking a taxi to and from town in search of a meal (unless you want to!). Fancy a tropical drink or snack by the pool overlooking the sea or on the beach? Our team is on hand to make sure you are never thirsty or hungry – everyday of your stay!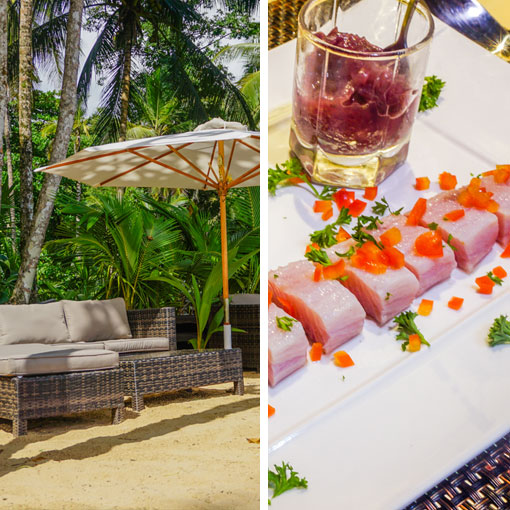 Enjoy our tiled swimming pool overlooking the sea at Bluff Beach!
The only full service, luxury hotel at Bluff Beach!
The only luxury hotel at Bluff offering daily lunch and dinner service!
Daily Poolside and Beach bar service!
Full body massage overlooking the sea from our hilltop yoga platform!
Evening Wine Get Together on the Beach!
Sundays are Brunch Days at Island Plantation!
WEATHER IN PARADISE

CONTACT US

WEB SPECIAL

Celebrating your Honeymoon? Your special partner's Birthday? Anniversary? Let us help you celebrate! We've put together a savings package for you.
View Web Special