About Us
IS ISLAND PLANTATION FOR YOU?

Island Plantation is the choice for the discerning traveler who's primary goal is to relax, enjoy great food and wine, great service from happy people, and experience harmony with nature and loved ones and perhaps partake in a few jungle adventures. Our guests come from all walks of life and we welcome everyone, regardless of race, gender, or sexual orientation.
Due to safety and tranquility concerns, Island Plantation is not suitable for children under the age of 10 years.
For Nature Lovers
LIVE IN HARMONY

Island Plantation is not for people that want a non-stop party, nor for people that cannot live without air conditioning, and definitely not for people that aren't nature lovers. We are immersed between the beach and the lush jungle where we live in harmony with nature, the animals, and with each other. Are you fascinated by a large, odd looking insect you've never seen before or would it make you run? If it would make you run you would most likely not be happy at Island Plantation.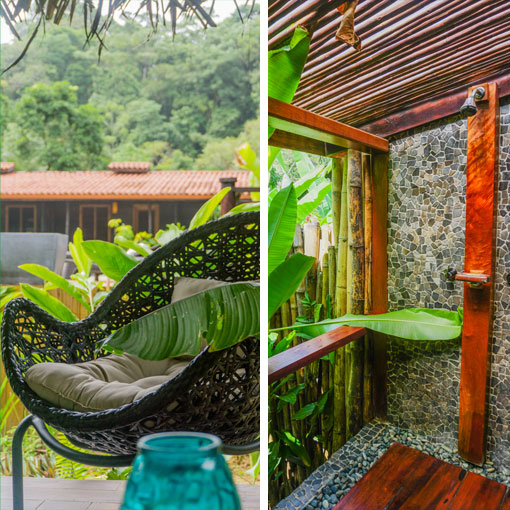 Extraordinary Experience
Our typical guest wants quality lodging that offers the little extras that make every stay so special. Let's say a heavenly bed, fine soaps, and fresh flowers. Personalized service, big smiles, and great food & drink are the norm at Island Plantation. Why would you make your Island vacation just ordinary by staying elsewhere?

Our self-sustained (off-the-grid) twenty-three acre rainforest farm allows guests to enjoy wild rainforest as well as the pristine Bluff Beach with its golden sand and lush jungle backdrop. Our guests choose Island Plantation for the high level of service and personal attention, the beautiful Bali-style guest rooms and ocean-view swimming pool, delicious cuisine, and the attention to the little extras that make any vacation more than just ordinary.

Our style is informal and barefoot, yet friendly with a touch of luxury. Our eight guest rooms include many fine amenities such as double pillow-top mattresses and organic bathroom products which complement our open-air private guest showers. The gorgeous Caribbean waters of Playa Bluff and the luscious rainforest backyard make this tranquil paradise a don't-miss destination for any eco-minded nature lover, adventurer or romantic.
New this year to Island Plantation is our Yoga and Meditation platform right in the heart of the lush rainforest.
A path through our organic herb and vegetable gardens leads to 165 steps that will guide you to a tall hilltop right behind the hotel.
Enjoy the peaceful energy and gorgeous ocean views while spotting monkeys, sloths and exotic birds. Listen to the soothing sounds of the ocean and the waterfall in the background while you read your favourite book or meditate. The large thatch roofed platform is ideal for yoga and your personal wellbeing routine as well as for scheduled massages. Soon to come will be a path down to the nearby waterfall…
WEATHER IN PARADISE

CONTACT US

WEB SPECIAL

Celebrating your Honeymoon? Your special partner's Birthday? Anniversary? Let us help you celebrate! We've put together a savings package for you.
View Web Special