Food & Beverage
DINING AT BLUFF & BOCAS TOWN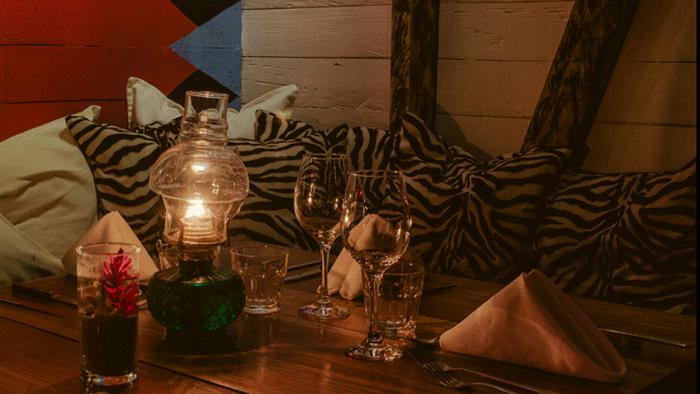 Really, what is a vacation without great food and drink? We are fortunate to have a multitude of dining options in Bocas with foods that fit most tastes and budgets. Should you wish to just hang out at gorgeous Bluff Beach, Island Plantation's French chef team aims to please and serve up great fare at our on-site restaurant. Our fine-dining restaurant, Mora Mora, serves casual yet stylish lunches and romantic barefoot dinners. Carefully crafted small menus and daily specials offer flavourful and enticing choices for the most discerning palate. A large part of our produce comes from our own organic gardens designed specifically for our restaurant and our exclusive guests. What is not available on the property, we select with great care from other local sources. Some food items are imported in order to maintain the highest level of quality and consistency as our kitchen takes pride in producing small batches of quality foods that don't need preservatives or unhealthy additives.
Mora Mora
DINING AT ISLAND PLANTATION

For the early risers the day starts with self-serve bottomless coffee and a wholesome breakfast served a la carte from 8-10am. Our breakfast menu includes omelettes, eggs-your-way with all the trimmings to Pancakes, Continental and Cereal, all included in your room rate.
Casual a-la-carte lunch is served from 12-3pm. Choose between light appetisers and salads to yummy sandwiches and daily lunch specialties.
Why not bring out the silver for dinner? Ok, we don't use silver, but we do go the extra mile to make dinner a bit special. How about candlelit tables, romantic lighting, carefully selected background music, all combined with great food and wine, and friendly attentive service? In addition to our regular menu, our chefs create evening specials based on locally available fresh ingredients.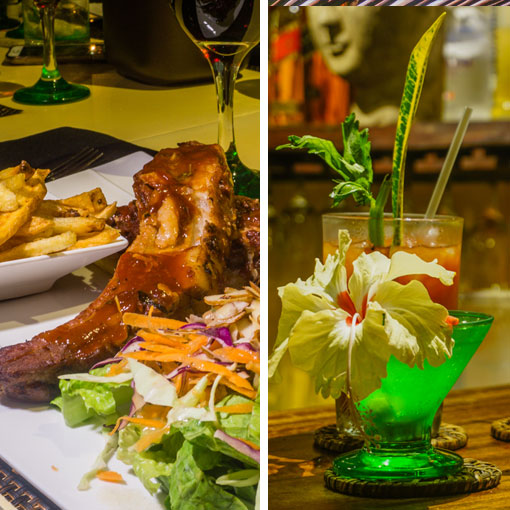 Sundays are Brunch Days at Island Plantation!
On Sundays, join us for Mimosas, Waffles and Eggs Benedict along with our other delicious, prepared to order breakfast items-included in your room rate. Only at Island Plantation!!!
The Beach Club

Spend your day on the golden sand right in front of the hotel where we have comfortably set up and furnished a dedicated space for you to enjoy. Island Plantation guests have a separate VIP area with waiter service at your lounger or in the sofa areas. Indulge in refreshing tropical cocktails, cold beers and delicious snacks while getting that much needed rest and time-out. Our friendly and creative mixologists serve up unique and delicious alcoholic and non-alcoholic drinks such as basil ice tea and fresh "aqua de pipa" (coconut water) fresh from our own coconut trees. The Beach Service is available from 11am to 6pm every day. Bar and snack service are also available at the pool side, exclusive to Island Plantation guests.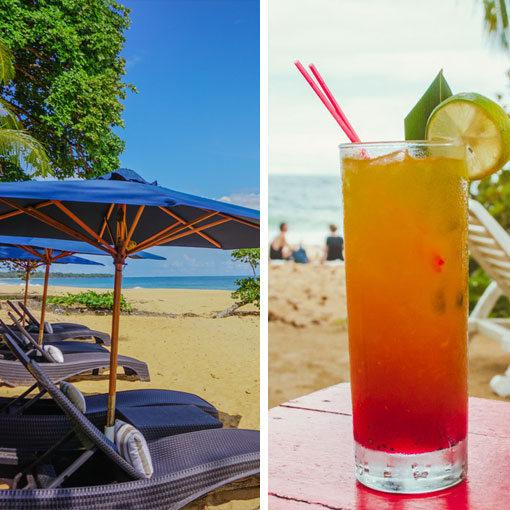 Evening Wine Get Together on the Beach!
Every Monday, Wednesday and Friday, join us on our beach for a complimentary glass of wine before heading up to our restaurant, Mora Mora for dinner. Mix and mingle with your hosts and fellow hotel guests as we say goodbye to another amazingly beautiful day out at Bluff Beach… Only at Island Plantation!!!
WANT TO EXPERIENCE MORE CULINARY DELIGHTS OF BOCAS DEL TORO?


A $15 taxi ride will bring you to town and the bustling restaurant scene. We can steer you in the right direction whether you want Mexican, Italian, Indian, Thai, Japanese, Chinese, Panamanian, or North American fare to name a few. The choices are many but check with us beforehand for the local insight to the best of the ever-changing dining scene!
WEATHER IN PARADISE

CONTACT US

WEB SPECIAL

Celebrating your Honeymoon? Your special partner's Birthday? Anniversary? Let us help you celebrate! We've put together a savings package for you.
View Web Special