Activities
THINGS TO DO ON BLUFF BEACH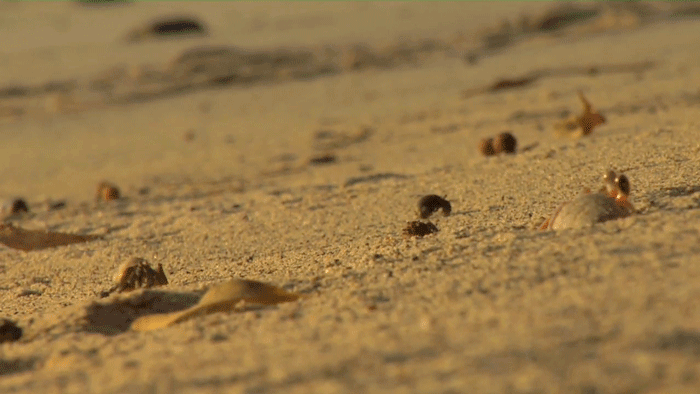 Bluff Beach is the most important nesting site in Bocas for several species of sea turtles, including the giant Leatherback. The season starts February and lasts through September. During this time guided 2 hour tours are available in the evenings (reservation required). If you are lucky, you will get to witness up-close a mother turtle coming in from the ocean to lay her eggs.
Later in the season you can also witness the hatching and see the little baby turtles off into the ocean. Estimated time Required: 2 hours
The Flying Pirates
ATV RENTALS

Flying Pirates is our recommend company for an unforgettable excursion into real jungle trails right here at Bluff (the preferred ATV destination on the Island). Rent an ATV for the day shared or individually for maximum fun discovering hidden beaches and challenging trails. Expect to get down and dirty! Time: 8-6pm full-day or by the hour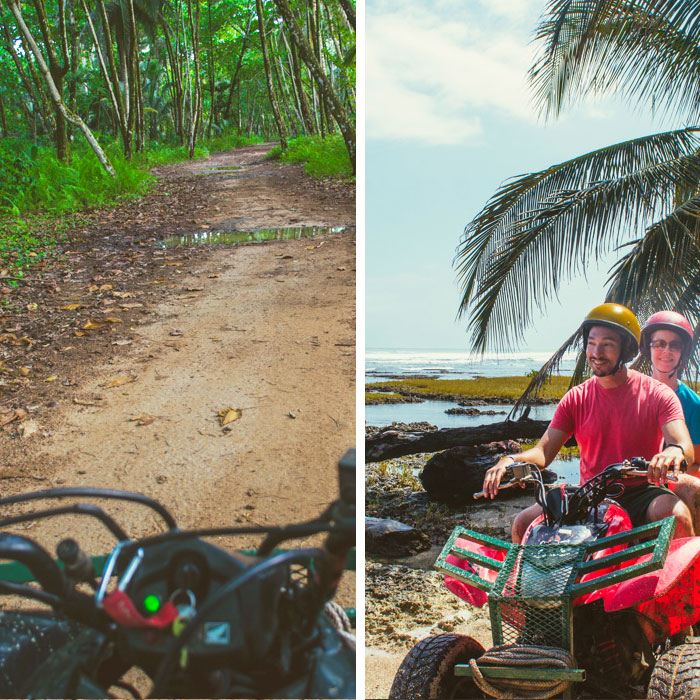 HORSEBACK RIDING

We are lucky to have some of Bocas' finest horses at Bluff Beach. Twice daily rides into the jungle and beach areas are available. Enjoy swimming and snorkeling and the beautiful scenery. Estimated time Required: 3 hours,
BIKING & PICNIC

Hire bikes and make a romantic day trip out of it. Order lunch-to-go from the restaurant and ride at your leisure down the beach road to the end of Bluff Beach for a perfect get-away. Often you'll be the only ones there to enjoy a spectacular panoramic view of Bluff Beach and the Caribbean. Ride further along and through jungle for more challenges and hidden swimming areas. Time Required: 2 hours and beyond.
JUNGLE WALK

Learn about the treasures of the primary and secondary rain forests from a local native Indian guide who will lead you through the lush forests of Bluff Beach. Great exercise comes with it and your chances of seeing monkeys and sloth are high on this walk!
Beach, beach and more beach!
Gorgeous Bluff Beach is lush, mostly uninhabited, and natural. Stroll the 4km (3 miles) of golden sand, swim (when conditions permit), lay back and relax in a hammock while sipping your favorite cocktail or a freshly cut coconut, get that extra sleep you deserve or read that book you haven't gotten to yet. Or simply watch the horizon and do nothing. Bluff Beach will capture you and you will know what to do once you're there!
VIEW THE BLUFF BEACH SURF REPORT
MORE BOCAS ACTIVITIES

Bocas offers a wide range of other activities that originate out of the town center, often starting with a boat ride. Hire a captain or a tour guide for the day to take you to their favorite spots, go snorkeling, surfing, dolphin watching, diving, beach hopping, bar and island hopping, fishing, or what about zip-lining or visiting one of several local organic chocolate farms or the botanical garden?! The choices are abundant and you'd be hard pressed to be bored in Bocas! Talk to us about your favorite activity and we'll do our best to get you on your way!